Taste of Croatia & The Dalmation Islands
Croatian food is very complex, as many cultures have influenced it's evolution in cuisine. Some of the most recognizable influences are Italian, Middle Eastern and Ottoman influences that intertwine with Croatia's signature dishes. Now what kind of food is Croatia and the Dalmatian Islands known for? Well, with their location, their seafood is a key ingredient in many dishes. For dessert there is Fritule, which is like a doughnut fried pastry. One of our favorite dishes was Soparnik, which is a savoury pie with a filling of Swiss chard. Croatia is also known for their wines, as there are over 300 geographically defined wine regions. The majority of Croatian wine is white, while also producing red. In addition to wines, Croatia is known for their Olive oil. Croatia produces its own olive oil due to the perfect climate for olives to thrive. What is unique in Croatia, especially the Dalmatian Islands, is that each village creates their own wine, olive oil, etc. for their village. This is why there isn't a big import of Croatian products. It's the perfect example of sustainability. Almost everyday there are farmers markets, which is where most of the locals go to get their ingredients that they don't produce themselves! As you get into the more popular cities off the islands, there are great places for signature restaurants. If the Croatians know one thing, it's how to make great food! All of this was made possible by Adventures Croatia and we thank them for showing us some of the best Croatia has to offer!
Here are 6 things you must experience when visiting Croatia
When traveling to Croatia and the Dalmatian coast, seafood should be at the top of your list. Croatian seafood is unbelievably fresh due to their coastal location. The Adriatic Sea makes Croatian seafood easily accesable and gives a unique flavor due to the slight higher salinity levels in the Mediterranean. Oysters are very popular in Croatian seafood but aren't the only briny delight, mussels and other shellfish are very popular. Dishes for example, Black Risotto and blitva, a signature Dalmatian dish of boiled potatoes and Swiss chard are very popular. It's important to note that a lot of the seafood is simply prepared with local olive oil and parsley. Truly, if you are going to Croatia, you must eat or at least try the seafood… it really is unlike anywhere else.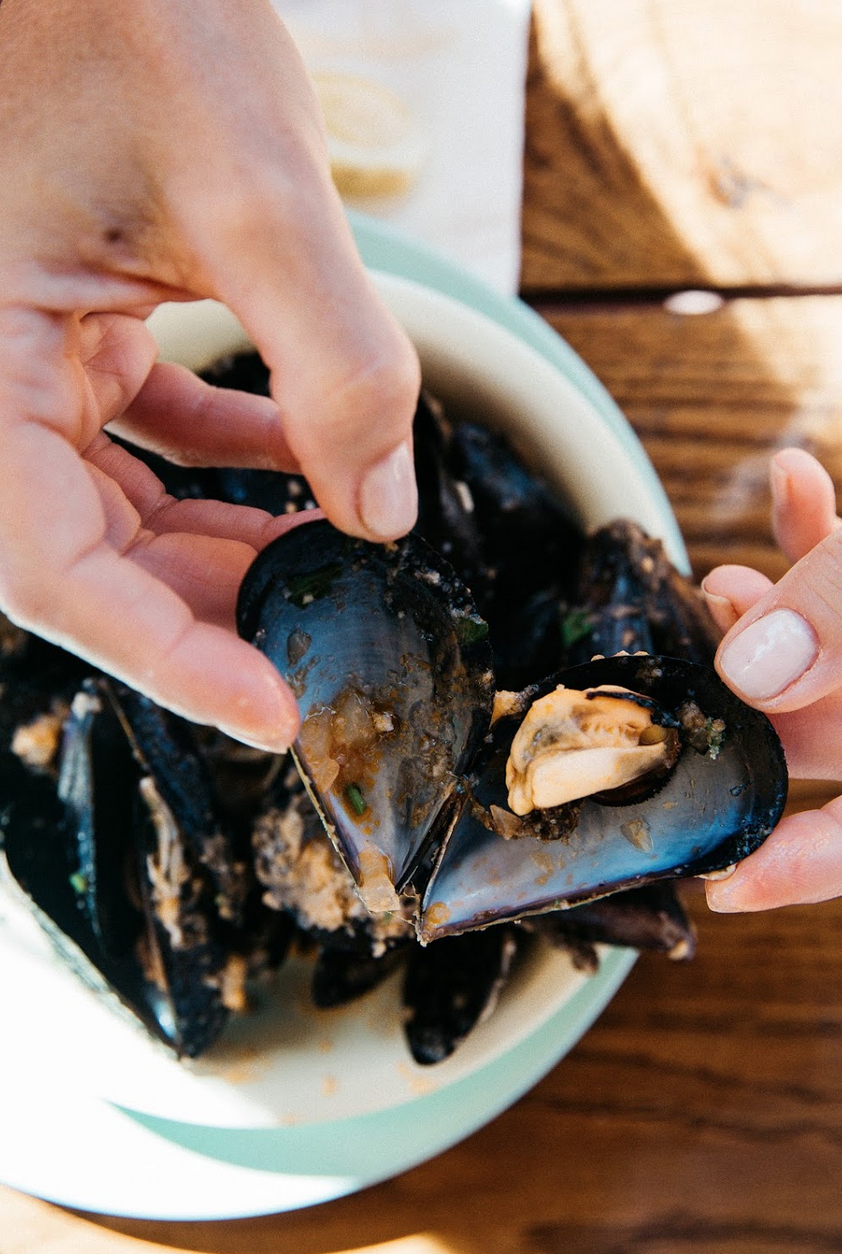 Fritule is the most common sweet treat that you'll find in Croatia. This dessert is a ball-shaped dough which ingredients include: flour, raisins, and lemon zest, it is then deep-fried and powdered sugar is sprinkled on top. This dessert is simple and the perfect Croatian sweet treat! When walking around the local farmers markets, look for Fritule!
A traditional Dalmatian dish is Soparnik. This is a savory pie that is filled with Swiss Chard, Garlic, Olive Oil and salt. It is absolutely delicious and is cooked in an outdoor oven where coals are put on top to help it cook. During our time, we had a cooking class that showed us exactly how Soparnik is made. With very simple, home grown ingredients, this Soparnik was packed with a delicious warm flavor that we will never forget. We recommend to take a cooking class to learn exactly how this Soparnik is made and trying some at the local farmers markets around town!
Croatia has a long tradition of wine-making. There are currently over 300 geographically defined wine regions in Croatia. It may be hard to find Croatian wine outside of Croatia because most wineries make such small amounts and there is no reason to export due to the cost. The majority of wine in Croatia is white, however most of their red wine is produced on the coast. The two wines that we found to be most popular in Dalmatia is Plavac Mali and Prosip. Plavac Mali is a red wine that has a strong bold flavor and high in alcohol. Prosip is the classic Dalmatian white wine that has a great body and fruity aromas. Croatian wine is a must try when visiting Croatia and should be on your list to visit local wineries.
Croatia has excellent olive oil and it is a staple of Croatian cuisine. You'll find it interesting that the majority of olive oil comes from the small family-owned farms that produce small quantities of olive oil. This in turn is the reason for the lack of exporting. Visiting, Uje oil bar, we had a first hand experience tasting the olive oil that was delicious and had amazing unique flavors. During our tasting, we paired our olive oil tasting with fresh bread, sardines and sliced apples. It truly was a beautiful presentation of each olive oil and the explanation of the olive oil flavors in Croatia. When visiting Croatia, we recommend taking some olive oil home!
Croatian farmers markets are the best way to get at the heart of ones culture. It is here where locals and tourists collide. The food at the farmers market is simple, fresh and grown locally. You won't find a city in Croatia without at least one farmers market. It is important to take notice of the area you are in. The location of farmers market will change what you will see at the markets. For example, Hvar is known for their lavender and it is highly recommended to visit this market to buy fresh lavender. We also recommend finding the local fish markets. There are so many varieties of fish at the fish markets it may help to visit so you know whats on your dinner menu! Immerse yourself with what's fresh by visiting a Farmers Market in Croatia!
Where to eat in Croatia
Zoi
Split, Croatia
Proto Fish Restaurant
Dubrovnik, Croatia
Uje Oil Bar
Split, Croatia
Grgic Winery
Trstenik, Croatia
A special thank you to Adventures Croatia for a beautiful trip and for being our tour guide. With Adventures Croatia, they offer a beautiful cruise based on your interests whether you're there for the food or just would like to have a relaxing experience.
We had such a wonderful stay with Adventures Croatia and can't thank them enough for such a lovely trip.
All photos are subject to copyright and can be purchased by photographer Lucianna McIntosh